JuiceBeauty is one of my favorite USA Beauty brands because they carry some great high quality skin care and natural cosmetic products. My favorite is their Blemish Clearing
 line, especially their Blemish Clearing Serum, because it works gently, but effectively. Their products are all USDA certified organic and feature a host of natural and organic plant juices and extracts to help your skin look and feel it's best.
 As you all may know by now, 
Beautyhabit
 is my favorite place to shop for beauty online and with good reason! They carry all of my favorite beauty brands, including some of my most loved USA made beauty products! Some of my favorites include RMS Beauty, Acure Organics, John Masters Organics, and May Lindstrom Skin Care. RMS Beauty has some amazingly synergistic cosmetics which double as skin care. Acure Organics has a lovely hair care line made with all certified organic ingredients as well as a lovely line of skin products. John Masters Organics offer salon luxury hair care products which help your hair reach it's full potential without sacrificing the quality you would get at any hair salon. May Lindstrom, one of my absolute favorites, offers a line of incredibly luxurious natural skin products which help keep your complexion clear, nourished and youthful. Plus, her line is so beautiful that the posh black glass packaging are ones you'll want to keep out on your bathroom counter all the time – just to show them off!
I did a review post on this lovely candle last year and I actually still have the candle! It's such a lovely floral scent and the ethics behind the candle are pretty incredible in and of themselves. Their video ad still makes me cringe, but the product is definitely worth the cost – one of the best luxury eco candles I've ever tried!
Jane Iredale Cosmetics carry a lovely line of what they call "Skin Care Makeup." Their products are firstly makeup products, but they include skin beneficial ingredients meant to heal and nourish skin while you wear them.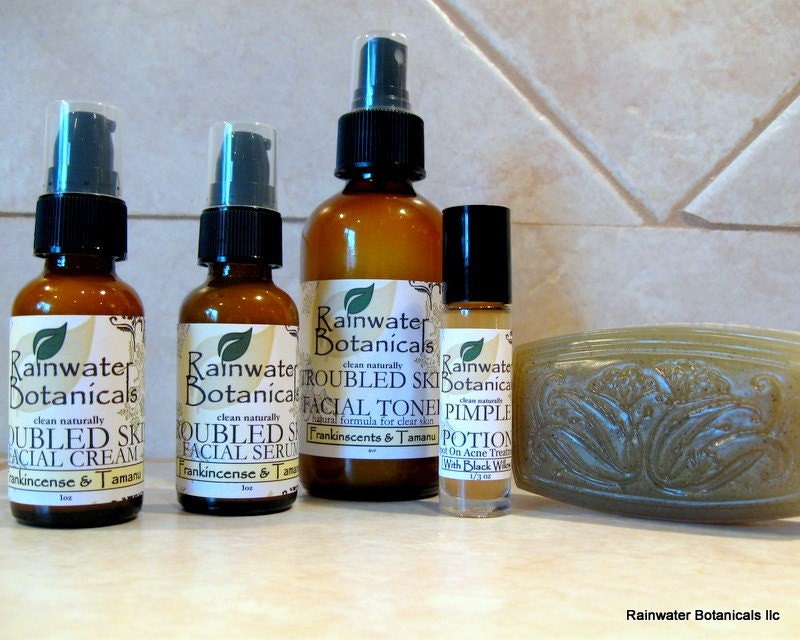 I've blogged a ton about Rainwater Botanicals as an affordable option for those who want to buy organic skincare, but feel it's too expensive. These products range in price, but they're all very reasonable and extremely effective. My favorites are their serums and troubled skin line. Serums can be as low as $9 for a small dropper bottle to about $50 for a skincare set of products ( like the one pictured above ) for those who want to buy in bulk. The prices are extremely affordable for anyone and very comparable to drugstore, but higher in quality. They are handmade in Washington State USA!

Another well-loved affordable natural skin care brand is Naturallogic. I haven't done too much blogging on their products, but they truly are lovely. They have a very minimalistic, but upscale feel to their products and are very affordable and effective. They have some very lovely products, all of which are made in the USA in small batches. Some of my favorites are their acne spot treatment, balancing cleansing oil and fruit enzyme cleanser.
What Is Your Favorite American Made Beauty Brand?
Do You Prefer Brands Made In Your Own Country or Does This Not Matter To You?
♥ Tianna