Random Friday Favorites | Things I've Been Loving Lately #47
Happy Friday!
I hope you're enjoying your last days of summer. I thought summer was winding down here in California, but it's been in the 100's again all week so maybe not. It's super hot, but I'm happy to say I'm almost 2 months into boot camp and I've been swimming and/or working out on weekends as well so I'm proud of that! Other than that, I finished all the seasons of Vampire Diaries and now feel like I don't know what to do with my life haha. Anyone else addicted to that show? This weekend is more swimming, a birthday party, and some sleep, I hope! What's your weekend look like? Anything exciting happening? This week's post is all about healthy summer living so enjoy those and scroll down for summer sales because this week's are pretty awesome!
Healthy Summer Living 
Have You Signed Up for My Monthly Newsletter?
If not, sign up here! You'll gain access to exclusive discount codes, sales, sneak peek and inside looks at brands, giveaways, AND exclusive content that's not available anywhere else.
Shop My Summer Favorites!
Summer is nearly it's end so definitely get hold of my summer favorite while you still can! The summer shop will close at the end of August so browse the shopping page of my top picks all month long and then it's gone forever ♥
Weekend Sales:
Beautyhabit // Their Summer Sale offers up 20% Off all color cosmetics when you use Code: COLORSUMMER at checkout! They have brands like RMS Beauty, Rouge Bunny Rouge, Chantecaille, W3ll People and more so shop the sale while you can – it ends Sunday!!
JCPenney // Get 20% Off purchases of $100 or more with Code: BASICS at checkout!
All Sole // Up to 70% Off Designer Shoe Brands – no code required!
Blogger Posts I Loved this Week: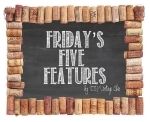 Wishing You A Lovely Weekend ♥
Come Chat With Me!
Visit Tianna @ Storybook Apothecary's profile on Pinterest.
*Affiliate links in post; Not all links are affiliate.
MORE TO LOVE ♥